Through Building for Generations | The 150th Anniversary Campaign our goal is to complete the following building projects:
Worship Center
Designed and built between 1985 and 1987, our Worship Center is the heart of our campus. But after close to 35 years of regular usage, it needs upgrading to improve its functionality through re-envisioned use of space, provide enhanced sound and lighting, and to "set the stage" for ministry in the coming decades. Renovations in the Worship Center building will focus both on the Worship Center and the lobby, including:
Updated seating.
New carpeting and flooring.
Improved lighting, audio and visual projection.
Reconfigured stage including accessibility upgrades.
Modernized lobby bathrooms.
Lobby refiguring to increase gathering space.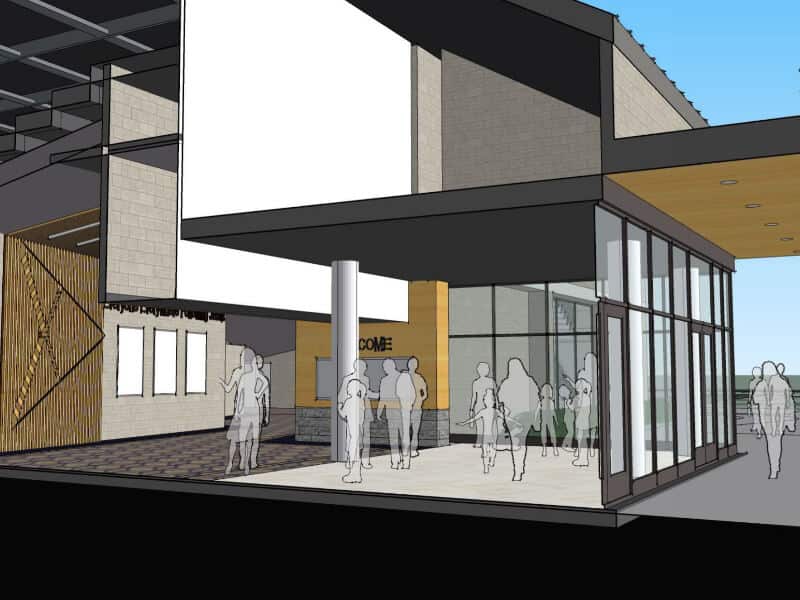 Building E (Children's Education Building)
Built in 1965, our education building has served children and students at Purpose Church for more than 55 years. Upgrading it inside and out will make it more accessible, regardless of physical limitations, and provide a safer and more welcoming place for children to play, pray and hear how much Jesus loves them; and for students to grow closer to Jesus and bring friends to hear about Him. The building will be completely remodeled to serve children from preschool through high school. Renovations in this building are the most extensive and will add 12,000 more square feet of useable space to the existing 26,000 square feet we currently have available. Other improvements include:
Safety improvements including reinforcement to meet current earthquake standards and installation of enhanced fire prevention systems.
Accessibility upgrades including elevator access and ADA-accessible rooms and bathrooms.
Updated classroom flooring, lighting, ceilings, walls and audio visual.
Exterior upgrades including windows and doors, signage, and updating balconies, stairs and railings.
Increased security throughout.
Building E will be completed in multiple phases throughout the fundraising campaign.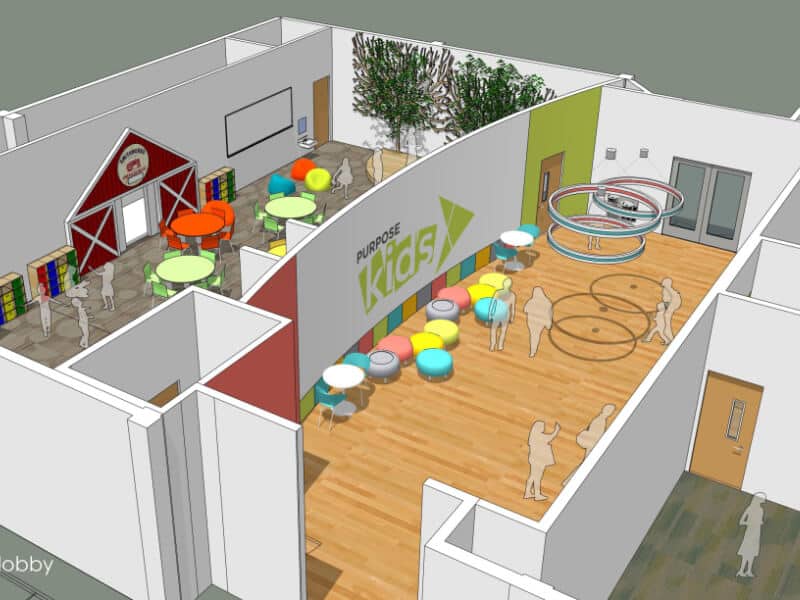 Building F
Building F is the current home for much of our Purpose Kids ministry. Generations of children have grown up in these classrooms, memorizing Scripture, singing songs about Jesus, and learning Bible stories through flannel graph presentations, filmstrips, VHS tapes, DVD disks and hundreds of volunteers who have lovingly shared Jesus with boys and girls.
By expanding Building E to accommodate all children's and student ministries, we will be able to renovate Building F to provide easily accessed, welcoming classrooms for adults. The renovations will be on the first floor only and will include:
Updated classroom flooring, lighting, ceilings, walls and audio visual.

Accessibility upgrades including ADA-accessible rooms and bathrooms.

Creation of storage space and workshops to allow the demolition of the Bus Barn.

The entire Campaign is a multi-year effort to update existing buildings to better use the space we have while presenting a more contemporary campus that is inviting to people in our region. We will complete the renovations in phases as funding allows, allowing us all to see how our gifts to Building for Generations | The 150th Anniversary Campaign are having a real impact for the people who call Purpose Church home and for others who are looking for purpose in their lives that comes only from being a Christ-follower. Your gifts are vital to the completion of the work.
Thank you for your generosity. Together we're Building for Generations!